Ally Sturm - Sideline Reporter and Host
---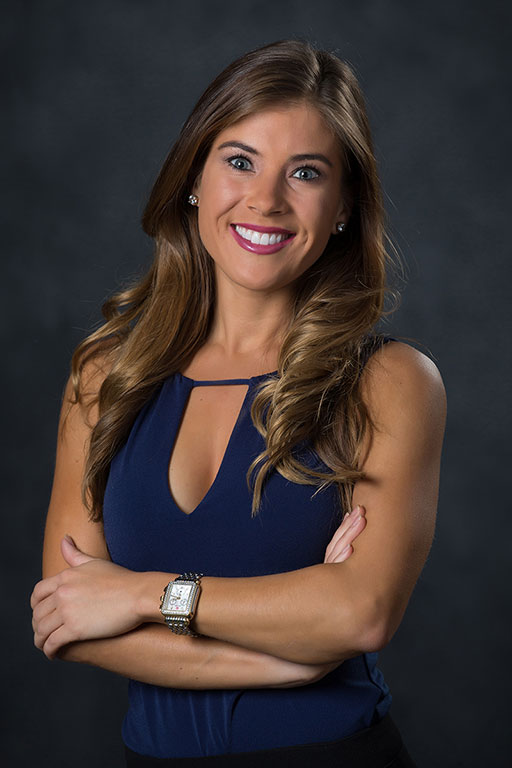 Ally Sturm cultivated her passion for covering sports when she received a BA in Broadcast Journalism from Pepperdine University in 2012 as a member of their D1 Track and Cross Country Team. While in college Ally interned with KTLA TV and the NFL Network in Los Angeles, as well as NBC Sports TV, Chicago when home for the summer.
After a stint of production work for Time Warner Sports, Los Angeles, she moved to Denver where she was hired to perform in-game hosting for the Colorado Rockies, Colorado Rapids, Colorado Mammoth and Denver Broncos. In the summer of 2015, the West Coast and Fox Sports called her back for San Diego Padres sideline reporting and to host "Padres POV", which was recently nominated for an Emmy. After the MLB season Ally was contacted by Altitude Sports. She is now the Nuggets and Rapids sideline reporter, as well as TV host.Ally is also a co-host of the Air Force Falcons Report and works with Rapids360.
Genuinely thankful for her opportunities, Ally helps promote Luster Learning Institute's Calm Classroom, a curriculum designed to instruct students how to overcome learning difficulties, school violence and toxic stress. Ally also does volunteer work at a local animal shelter and loves to travel and spend quality time with her huge Greek family!
---
Ally's Favorites:
Sports Movie – Rudy
Movie Overall – Elf
Sports Book – They Call Me Coach – John Wooden
Sports Moment – too many to count….but recently – Emmanuel Mudiay buzzer beater against Philly
Favorite Home Team Moment – 96 Bulls season – tons of moments
Best person I have met in Sports – 

There are so many but one of the kindest was certainly Dave Roberts. My old bench coach for the Padres and now Dodgers Manager.

Band - Mumford and Sons
Best thing about working at Altitude – the people
Person I Would Like to Meet – Kareem Abdul-Jabbar
When I was a kid I wanted to be: Dolphin Trainer (I love animals)
Learn more about our on-air talent.