High School Sports
---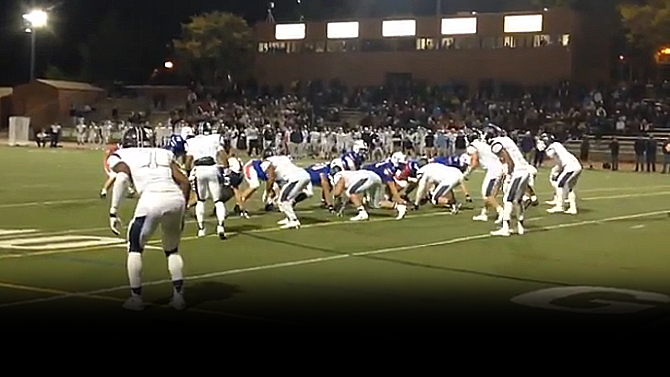 2017 High School Football Schedule on Altitude
Network to Air Eight High School Football Games This Fall
Altitude announced today the 11th season of its High School Football Game of the Week with a schedule featuring eight broadcasts. Altitude's high school football coverage begins Friday August 25th at 7 PM with Faith Lutheran (NV) vs. Valor Christian. Featured broadcasts include a September 22nd 5A Championship rematch with Valor Christian and Pomona as well as a doubleheader on October 12th and October 27th.
"We are proud to offer a great lineup of high school football programming to fans and families," said Ken Miller, Executive Vice President & General Manager/Executive Producer of Altitude. This is our 11th year broadcasting high school football and we look forward to showcasing the student athlete's dedication, team work and passion for the sport."
The complete Altitude 2017 high school football schedule can be found below. Please note that this schedule is subject to change and territory restrictions apply. 
| | | | | | | | |
| --- | --- | --- | --- | --- | --- | --- | --- |
| # | Day | Date | Time (MT) | Game | Location | Conference | Notes |
| 1) | Friday | August 25, 2017 | 7:00pm | Faith Lutheran (NV) at Valor Christian | Valor Christian High School - Highlands Ranch | 5A- Non-Conference | HD |
| 2) | Friday | September 1, 2017 | 7:00pm | Mullen at Valor Christian | Valor Christian High School - Highlands Ranch | 5A- Non-Conference | HD |
| 3) | Friday | September 22, 2017 | 7:00pm | Valor Christian vs. Pomona | North Area Athletic Complex, Arvada | 5A- Non-Conference | HD |
| 4) | Friday | September 29, 2017 | 7:00pm | Cherry Creek at Valor Christian | Valor Christian High School - Highlands Ranch | 5A- Non-Conference | HD |
| 5) | Thursday | October 12, 2017 | 7:30pm | Mullen vs. Columbine | Jeffco Stadium- Lakewood | 5A- Mt. Cameron | HD |
| 6) | Thursday | October 12, 2017 | 10:00pm (SDD-4:00pm) | Golden vs. Dakota Ridge | Jeffco Stadium- Lakewood | 4A- Plains | HD |
| 7) | Friday | October 27, 2017 | 7:30pm | Grandview vs. Arapahoe | Legacy Stadium, Aurora | 5A- Mt. Massive | HD |
| 8) | Friday | October 27, 2017 | 10:00pm (SDD-4:00pm) | Cherokee Trail vs. Mountain Vista | Legacy Stadium, Aurora | 5A- Mt. Evans | HD |