College Sports
---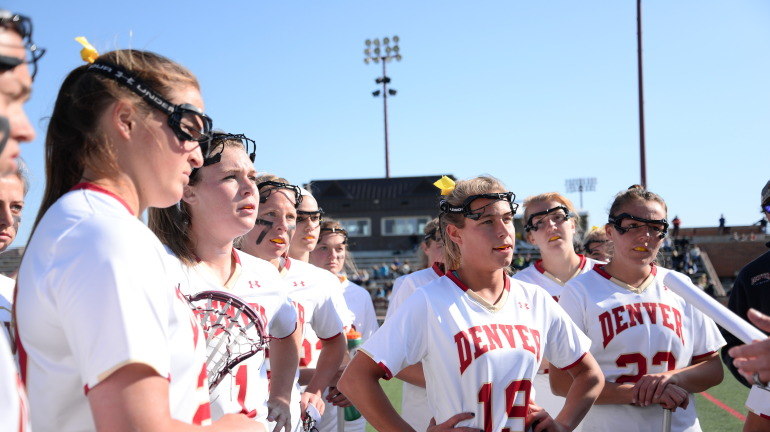 Altitude Sports broadcasts various NCAA games on occasion, including the DU Pioneers. 

DU Fall 2019-20 TV Schedule
---
Seen in more than 2.5 million homes in a 10 state territory, Altitude is the television home of the Denver Nuggets, Colorado Avalanche, Colorado Mammoth, Colorado Rapids, Denver Outlaws, University of Denver sports (including hockey, basketball, soccer, volleyball, gymnastics and lacrosse), University of Colorado weekly show and CHSAA High School Football Game of the Week, as well as other local and regional sports, entertainment and public service programming. A full list of Altitude programming and other information can be found at www.altitudesports.com.
| Date | Time (MT) | Sport | Game | Network |
| --- | --- | --- | --- | --- |
| Thursday, August 22, 2019 | 7:00pm | WSOC | Boston University Terriers at Denver Pioneers | Altitude |
| Sunday, August 25, 2019 | 12:00pm | WSOC | Drake Bulldogs at Denver Pioneers | ALT2 |
| Thursday, August 29, 2019 | 7:00pm | WSOC | Texas Longhorns at Denver Pioneers | Altitude |
| Friday, August 30, 2019 | 6:00pm | VB | San Francisco Dons at Denver Pioneers | Altitude |
| | | | | |
| Saturday, September 21, 2019 | 5:00pm | MSOC | Southern Methodist Mustangs at Denver Pioneers | ALT2 |
| Saturday, September 21, 2019 | 7:30pm | WSOC | Colorado Buffaloes at Denver Pioneers | ALT2 |
| Saturday, September 28, 2019 | 1:00pm | MSOC | Eastern Illinois Panthers at Denver Pioneers | Altitude |
| | | | | |
| Sunday, October 6, 2019 | 12:00pm | VB | South Dakota Coyotes at Denver Pioneers | ALT2 |
| Thursday, October 10, 2019 | 6:00pm | WSOC | Western Illinois Leathernecks at Denver Pioneers | ALT2 |
| Saturday, October 19, 2019 | 7:00pm | HKY | Boston College Eagles at Denver Pioneers | ALT2 |
| Saturday, October 26, 2019 | 7:00pm | MSOC | Nebraska-Omaha Mavericks at Denver Pioneers | ALT2 |
| Sunday, October 27, 2019 | 2:00pm | VB | Oral Roberts Golden Eagles at Denver Pioneers | Altitude |
| | | | | |
| Saturday, November 9, 2019 | 1:00pm | CBK | Utah Valley Wolverines at Denver Pioneers | Altitude |
| Friday, November 15, 2019 | 7:00pm | HKY | North Dakota Fighting Hawks at Denver Pioneers | Altitude |
| Friday, November 22, 2019 | 7:00pm | HKY | Western Michigan Broncos at Denver Pioneers | ALT2 |
| | | | | |
| Tuesday, December 10, 2019 | 7:00pm | CBK | New Mexico State Aggies at Denver Pioneers | ALT2 |
| Friday, December 13, 2019 | 7:00pm | HKY | Colorado College Tigers at Denver Pioneers | ALT2 |
| Saturday, December 14, 2019 | 1:00pm | CBK | Air Force Falcons at Denver Pioneers | Altitude |
| Saturday, December 21, 2019 | 1:00pm | CBK | Wyoming Cowboys at Denver Pioneers | Altitude |
| Sunday, December 29, 2019 | 1:00pm | WBK | North Dakota State Bison at Denver Pioneers | Altitude |
| Sunday, December 29, 2019 | 3:30pm | CBK | North Dakota State Bison at Denver Pioneers | ALT2 |
| | | | | |
| Thursday, January 2, 2020 | 7:00pm | CBK | North Dakota Fighting Hawks at Denver Pioneers | ALT2 |
| Friday, January 3, 2020 | 7:00pm | HKY | UMass Minutemen at Denver Pioneers | Altitude |
| Wednesday, January 8, 2020 | 7:00pm | CBK | South Dakota State Jackrabbits at Denver Pioneers | ALT2 |
| Friday, January 10, 2020 | 7:00pm | HKY | St. Cloud State Huskies at Denver Pioneers | ALT2 |
| Saturday, January 11, 2020 | 7:00pm | HKY | St. Cloud State Huskies at Denver Pioneers | ALT2 |
| Thursday, January 30, 2020 | 7:00pm | CBK | South Dakota Coyotes at Denver Pioneers | Altitude |
| Friday, January 31, 2020 | 7:00pm | HKY | Minnesota-Duluth Bulldogs at Denver Pioneers | ALT2 |
| | | | | |
| Saturday, February 1, 2020 | 7:00pm | HKY | Minnesota-Duluth Bulldogs at Denver Pioneers | ALT2 |
| Thursday, February 20, 2020 | 7:00pm | CBK | Oral Roberts Golden Eagles at Denver Pioneers | Altitude |
| Saturday, February 22, 2020 | 7:00pm | HKY | Miami (OH) Redhawks at Denver Pioneers | ALT2 |
| Saturday, February 29, 2020 | 1:00pm | CBK | Western Illinois Leathernecks at Denver Pioneers | Altitude |