Match Preview: Rapids open 2021 at FC Dallas
---
It is 25 years ago next Wednesday that the Colorado Rapids played their home opener of the inaugural MLS season, defeating Dallas Burn 3-1 at Mile High Stadium, writes Richard Fleming.
A quarter of a century on and the Rapids are at the since renamed FC Dallas for their first game of the 2021 season. (Click HERE for FC Dallas team guide).
Whereas the Rapids remain relatively unchanged, Luchi Gonzalez – the Dallas head coach – has had quite the busy offseason.
Santiago Mosquera, the man who scored a hat-trick against the Rapids last season in the 4-1 win in Frisco, has departed, as have Bryan Reynolds, Thiago Santos, and Reto Ziegler.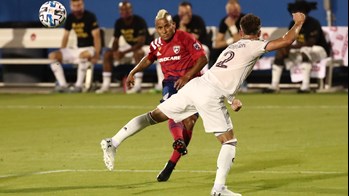 Another to exit Dallas is Colombian winger Michael Barrios (pictured). He will face his old teammates on Saturday in the colors of Colorado.
That one and only meeting in 2020 was their only loss in a seven-game spell, and came off the back of the 5-0 thumping of Real Salt Lake four days earlier. They reacted with wins at LA Galaxy and home to San Jose (5-0 again), before a Covid outbreak shut them down for a month.
New names in the Dallas locker room this term include Freddy Vargas, Jáder Obrian, and Jose Antonio Martinez. Gonzalez clearly feels comfortable with his defense and has instead prioritized the attack as an area of need. Obrian and Vargas are wingers and will look to connect with last season's leading scorer Franco Jara.
Martinez appears a replacement for Ziegler. The Spaniard arrived from La Liga's SD Eibar, though much of his most recent time had been on loan at Granada. He was a part of Granada's promotion-winning squad in 2019.
Dallas has lost three of their top five scorers from 2020 (Mosquera, Fafa Picault, and Zdenek Ondrasek) and, though they appeared to enjoy a strong preseason, their new recruits may need a few games to get adjusted to life in a new league.
The Rapids on the other hand have the bulk of their squad from last season, with Barrios the only real unknown likely to feature as a regular in the short-term.
Anyone listening to head coach Robin Fraser in recent times will be aware that even as their final game of 2020 was entering the closing stages – a 3-0 loss at Minnesota in the first round of the playoffs – his mind was already excitedly wondering about 2021.
But this weekend's encounter has added incentive, as Luchi Gonzalez mentioned in an interview this week: "This is a double value game because of Open Cup qualification."
Yes, the first three games of the 2021 season will also count toward qualification for the U.S. Open Cup. The top eight US teams will make it through to this year's competition.
So, there can be no easing into the new season, while building momentum toward the back end of the calendar. With that Open Cup carrot, teams will be keen to hit their stride early on.
This is the fourth time the Rapids have opened the season at Dallas. They were beaten via the shootout method in 1998, despite Dallas Burn playing the final 23 minutes with 10 men after former Colorado Foxes midfielder Ted Eck was sent off.
In 2004, Chris Henderson was dismissed three minutes from time for the Rapids in a 1-1 draw, while 2013 opened with a 1-0 win for Dallas after a mistake by goalkeeper Stew Ceus.
FC Dallas is one of seven sides the Rapids will face three times during the regular season. They also clash at home on May 29 and July 21. They face Dallas three times in the opening 13 games.
Coverage of FC Dallas vs. Colorado Rapids is on Altitude TV and AltitudeNOW from 5.30pm this Saturday, with Richard Fleming and US soccer legend Marcelo Balboa.