Match Preview: San Jose Earthquakes vs. Colorado Rapids
---
This weekend, the Colorado Rapids head west for a Saturday night showdown with fellow-strugglers San Jose Earthquakes, writes Richard Fleming.
Unlike the Rapids, the Quakes were on MLS duty midweek and were handsomely hammered 5-1 at LAFC. Including their quarterfinal defeat in Orlando (which did not count toward the regular season), San Jose have now given up 12 goals in three games.
This is in stark contrast to the four previous games, all of which were in the Orlando bubble. They went 2-1-0 in the group stage, scoring six goals and keeping two clean sheets. They then thumped Real Salt Lake 5-2 in the Round of 16, before exiting, and have not looked the same side since.
Their lot has not been helped by injuries to regular central defensive pair Oswaldo Alanis and Guram Kashia. It has meant Florian Jungwirth and rookie Tanner Beason have stepped in, while 16-year-old Cade Cowell has started the last two games - his first starts in MLS.
Despite the Quakes' 5-1 defeat on Wednesday, the Rapids' head coach, Robin Fraser, still expects a tough game in San Jose. He said: "They're a team that makes it extremely difficult for teams to get into their rhythm, the way they defend.
"I know they had a poor result, which means they'll probably come out with more resolve on the weekend. We just have to be cognizant of that, try to be as efficient as we can, and do the things that we want to do."
Matias Almeyda's men host the Rapids this Saturday in what is their first game at Earthquakes Stadium since March 7, when they came unstuck 5-2 to Minnesota United. Having hosted Toronto the week before and tied 2-2, the Quakes go hunting home success for the first time since the end of August, 2019.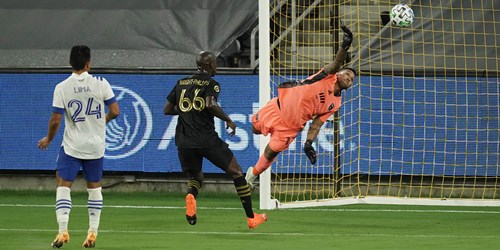 On responding to Wednesday's walloping by LAFC, veteran midfielder Shea Salinas said: "We won't dwell on this for long. We have a game in two days at home against Colorado, who are a good team.
"I think what we need to learn the most is how to bounce back from a game like this. We've done it before. Last season, we lost to LAFC 5-0 and the next game we won 3-0 against Portland at home. So, let's go do that again."
With most MLS stadiums not allowing fans for the time being, home advantage may be diminished, which will be a good thing as far as the Rapids are concerned. They have yet to win in five previous visits to Earthquakes Stadium (previously Avaya Stadium) but will be buoyed by last weekend's 1-1 draw with Sporting Kansas City.
Defensively the Rapids looked much more assured over the 90 minutes, a far cry from the previous week when they gave up four at home to Real Salt Lake. Again, they maintained possession, but again they seemed to lack a final ball in the offensive third.
On Saturday's opponents, Fraser added: "They certainly are unique in how they defend but it's a team that certainly has achieved some success. The coach has utilized this sort of defending style for a number of years on a number of different teams, so he is certainly adept in how he teaches it and how he wants his team to play.
"So, for us, it's going to be just a lot about moving the ball quickly and recognizing where available options are, timing of run as you pull players out of spaces. It requires a pretty well coordinated effort, and you see that a lot of teams have trouble with them, for sure, so it's one of these where we have to be really efficient on the day."
The Rapids are without a win since returning from lockdown, having begun the year with back-to-back success, and sit 10th in the 12-team Western Conference standings. They will take great heart, though, from LAFC's midweek success against the Quakes. A point ahead of the Rapids, the win lifted Bob Bradley's boys from ninth to third.
In other words, with a rush of fixtures in the coming weeks, there are opportunities to put previous poor results behind and go on a run. That needs to start somewhere, and the next foe facing them have struggles of their own.
NOTES:
Two of the league's leading scorers could feature this weekend.
- MLS all-time leader Chris Wondolowski (37) has 161 goals. He has two goals from six substitute appearances this season
- Kei Kamara, who turned 36 this week, sits fifth all-time with 128 goals. This includes the 1,000th goal in Rapids' history, scored against Minnesota United (7/22). He has two goals this term from seven appearances (four starts).
Veteran strikers Wondolowski and Kamara were teammates at Houston Dynamo (2008-09).
Sam Vines returns to the stadium where he made his MLS debut for the Rapids, in a goalless draw on October 21, 2018.
Only once in MLS history has the Eastern Conference Championship game been contested by two teams from the Western Conference. This happened in 2010, with the Rapids defeating the Quakes 1-0 at home.
Among San Jose's leading scorers is Mexican defender Oswaldo Alanis, who has missed the previous three games.
While the Rapids have looked a different side since the departure of Sam Nicholson, so too have San Jose now that attacking midfielder Magnus Eriksson is back in Sweden with Djurgårdens IF.
Coverage on Altitude and AltitudeNOW starts at 8.00pm MT on Saturday, with kickoff set for 8.30.