MLS Team Guide: Seattle Sounders FC
---
Ahead of the 2021 MLS season, Richard Fleming introduces us to the teams set to face the Colorado Rapids. Another side they will face three times this year is Seattle Sounders, with the first of those being on 4th July.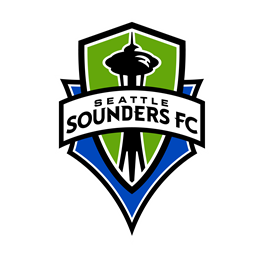 First season in MLS: 2009
Honors: MLS Cup winners (2016, 2019), Supporters' Shield winners (2014), U.S. Open Cup winners (2009, 2010, 2011, 2014)
Stadium: Lumen Field, Seattle, Washington
Head Coach: Brian Schmetzer (interim, July 2016, appointed head coach November 2016)
History with the Rapids
They first clashed in MLS on May 23, 2009 in a 2-2 tie at DICK'S Sporting Goods Park, but their history goes back 10 years earlier. They met in the third round of the U.S. Open Cup at Mile High Stadium on July 13, 1999. A Matt McKeon goal was the difference.
The Sounders – then of the A-League – had future Rapids goalkeeper Preston Burpo in between the sticks. They also had Craig Waibel in the side. Waibel has recently returned to the club as Senior Vice President of Soccer Operations & Sporting Director.
The Rapids and Sounders faced each other in the Open Cup a second time, meeting in Seattle on August 7, 2007 in the quarterfinals of the competition. The Rapids were overwhelmed 5-0. Among the Seattle scorers was Sebastien Le Toux, who would go on to play for the Rapids. At the time, Seattle were in USL-1.
In MLS terms, the Sounders have dominated, winning 18 of the 27 regular season meetings, and all three postseason affairs. They are the only team, of those to have played more than three games in Colorado, to have a winning record in the Centennial State (7-5-1).
The Rapids have won the two most recent encounters, both at home, but prior to that they lost five in a row. They have won twice in Seattle, but that first victory was a long time coming. When Kevin Doyle latched onto a long, hopeful ball from Jared Watts to score on July 18, 2015 the Rapids secured their first win in Seattle, having gone 0-8-1 in the nine previous visits.
Under Pablo Mastroeni, that would be the start of three wins in a row over the Sounders, including two on the road. Two of those wins came in the 2016 regular season, but Seattle would have their revenge, winning both legs in the Western Conference Championship game on their way to lifting MLS Cup.
Seattle will once again be the visitors on 4th July this year. Brian Schmetzer's side has been successful on their two visits to date, in 2017 and 2018.
Head-to-head record: 7-18-2
Last meeting: W 3-1, 11/1/20 at DICK'S Sporting Goods Park
2020 Season
For the fourth time in five seasons, the Sounders made it all the way to MLS Cup. Seeking to join D.C. United, Houston Dynamo, and LA Galaxy as back-to-back winners, Seattle were dismantled by Columbus Crew in the final, losing 3-0.
In the pandemic-riddled regular season, Schmetzer's side finished second in the Western Conference, on the same points as top team Sporting Kansas City, though having played a game more. With placings determined by points-per-game, the Sounders had to make-do with second best, as was the case in the final.
That said, the balance of this team was highlighted once again. Only Supporters' Shield winners Philadelphia Union had a better goal difference (+24), with the Sounders good on both sides of play, scoring 44 yet conceding just 23 in 22 games. (They missed playing the maximum 23 games as their home fixture with Colorado, scheduled for October 14, was postponed. This was due to a Covid outbreak at the Rapids).
As with most years, the Rave Green were stout at home, going 7-1-2. Their only home loss was to the Portland Timbers by two goals to one on September 6. They responded well, crushing the Earthquakes 7-1 and then defeating LAFC 3-0.
Notable that Seattle did not lose more than one game in a row. They bounced back, and they were consistent. The longest they went without success was three games (0-1-2).
They marched into the playoffs, disposing of LAFC at the first hurdle, 3-1. They eventually found a way past FC Dallas, edging a 1-0 victory thanks to Rapids homegrown defender Shane O'Neill, and shook off a stubborn Minnesota United in the Western Conference Championship game 3-2. Columbus just had too much for them.
Offseason Highlights
Team captain Nicolás Lodeiro signed a contract extension with the Rave Green in mid-December, keeping the Uruguayan in Seattle until the end of the 2023 season.
Head coach Brian Schmetzer signed a multiyear contract extension in late January, a month which saw star player Jordan Morris head off to Wales for a loan spell with Championship club Swansea City. He has since returned and undergone surgery to repair a torn ACL in his left knee. He missed the 2018 season with a torn right ACL.
There have been three key signings so far during the offseason. Kelyn Rowe joined as a free agent. Entering his 10th year in the league, Rowe spent 2020 with New England Revolution.
A former fan favorite has returned to the club. Fredy Montero, the club's record scorer and an original member of the Sounders' expansion season in 2009, spent three of the past four seasons at Vancouver Whitecaps.
And off the field, and to replace Chris Henderson who is now with Inter Miami, the Sounders have brought in Craig Waibel as the club's new Senior Vice President of Soccer Operations & Sporting Director. Waibel, a 12-year veteran as a player, had spent the last four years as GM at Real Salt Lake.
Players To Watch
Nicolás Lodeiro: it could be argued that the arrival of Lodeiro in the summer of 2016 was the catalyst for Seattle's surge to MLS Cup that year, with four goals and eight assists in 13 regular season games, followed by four goals in six postseason outings. He has contributed with goals in his four-and-a-half seasons, but it is his ability to create for others which is key. He boasts double-digit assists in his four 'full' seasons, and yes that does include 2020, when he managed 10 in 20 appearances.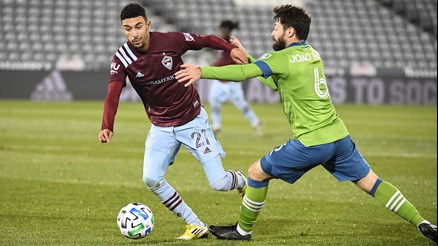 João Paulo: the club's second of three Designated Players to watch out for in 2021. Last season will have been a tough one to integrate and adjust to a new league. Paulo chipped in with two goals and five assists while on loan for 2020. The club clearly saw enough of him as they made the move permanent in January. Said to be the engine of the Sounders side in 2020, calm in possession and with wonderful technique, they will be hoping he has plenty left in the tank for what will be a hectic season.
Raúl Ruidíaz: what to say of this guy? As with the previous two, Ruidíaz is a DP, and he has delivered. In 53 appearances he has 33 goals and eight assists. He is a natural goalscorer. The 30-year-old arrived in June 2018, yet still scored 10 goals (in 14 appearances) that season. On top of his regular season stats, he also has nine goals in 10 playoff games. So, in all, he has 42 goals in 62 appearances. He topped the club's scoring charts last season, with an MLS career-high 12 goals in 17 games. He knows where the onion bag is!
In: Fredy Montero (Vancouver Whitecaps), Spencer Richey (FC Cincinnati), Kelyn Rowe (free agent, previously with New England Revolution).

Out: Nick Hinds (Nashville SC), Kelvin Leerdam (Inter Miami CF), Trey Muse (San Diego Loyal – loan), Román Torres (C.S. Cartagines, Costa Rica).
Meetings in 2021:
July 4 (home)
October 3 (away)
October 20 (home)
Click HERE for the full Rapids schedule.
Did You Know?
When Shane O'Neill scored against FC Dallas in the playoffs last year, it was only his second goal in MLS. His previous effort had been a regular season strike against Montreal Impact for the Colorado Rapids on May 24, 2014 at DICK'S Sporting Goods Park.
With the fastest goal in club history, Deshorn Brown beat Michael Gspurning after just 14 seconds as the Rapids handed Seattle a 5-1 drubbing on October 5, 2013. The Rapids were 4-0 up by halftime. Gabriel Torres – the first Designated Player in Rapids history – scored his first goal in MLS with the fifth in stoppage time.
Seattle were reduced to 10 men in the above game, when Zach Scott was sent off 11 minutes from the end. Scott was among the scorers for Seattle when – as a USL-1 club – they romped to a 5-0 win over the Rapids in the quarterfinals of the 2007 U.S. Open Cup.
This week Lumen Field, home of the Sounders, was cleared for fans to return. They can host 25 percent of venue capacity or 9,000 spectators, whichever is lower. As a result, they will host approximately 7,000 fans for the opening five home games, starting with Minnesota United on April 16.