Scott Hastings - Nuggets Television Color Analyst
---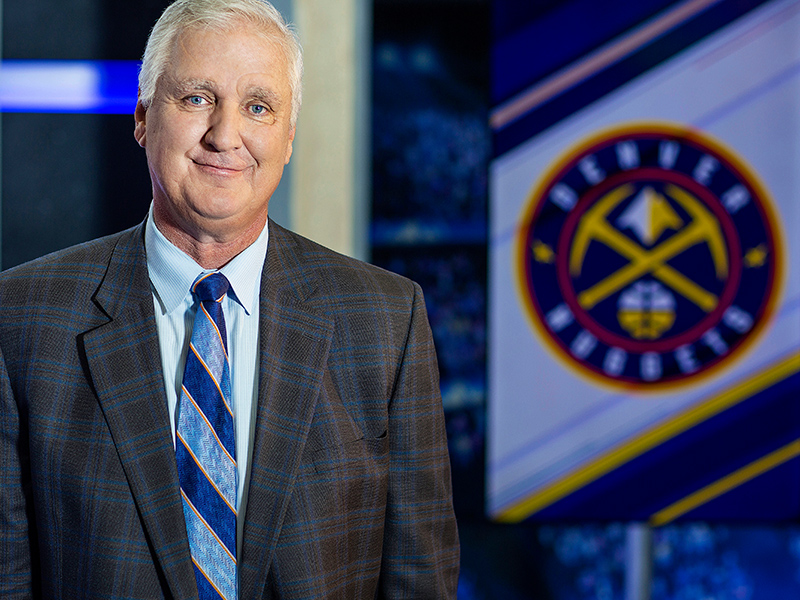 Scott can be seen on the Denver Nuggets broadcasts as the color analyst. In addition, Scott was a color commentator for the Denver Broncos for 9 seasons, including the team's first two Super Bowl victories, and currently co-hosts a show on Altitude Sports Radio.
He attended the University of Arkansas from 1978-1982, where he played for legendary coach Eddie Sutton. During his standout college career, the Razorbacks won three conference championships and appeared in four NCAA tournaments, including one Sweet Sixteen visit and one Elite Eight appearance. Scott was the first freshman in Southwest Conference history to make the All-SWC tourney team. He was also an All-Conference selection during his sophomore, junior and senior campaigns, leading the Razorbacks in both scoring and rebounding. He was also a member of the first-ever U.S. Junior World Championship team in 1979.
Scott was drafted in 1982 (29th selection) by the New York Knicks and went on to play 11 years in the NBA. Scott won a World Championship with the Detroit Pistons in 1989-90. He retired as a Denver Nugget following the 1993 season.
Since retiring from basketball, Scott has been a part of NBA broadcasts on a regional and national level. He has worked as an analyst for the Nuggets and served as a sideline reporter for Turner Sports for four years. He also was a co-host of a talk radio program for 12 years, and the program was consistently one of the top-five rated shows in Denver. Scott has won a number of local and national awards, including the prestigious Edward R. Murrow award in 2004. He has spent a combined 25 seasons as a player and broadcaster for the Denver Nuggets and a combined 35 years as a player and broadcaster for the NBA. 
---
Favorites:
Favorite sports movie: Brian's Song
Favorite sports book: Wooden
Favorite sports moments: Winning the world championship with the Team USA Junior Team in 1979 and winning the NBA championship with the Detroit Pistons in 1990.
Favorite band: Tie between Pink Floyd, the Doors, Cake and Partridge Family
---
Learn more about our on-air talent.